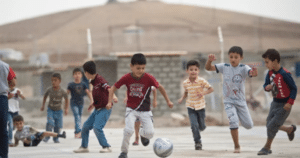 For the past six years, Syria's children have been bombed, shot at and starved to death. They've seen loved ones killed or injured, right before their eyes. Their homes and schools reduced to rubble. Their families torn apart.
We, the rest of the world, are so far away. In fact, we live in fully different worlds. It is easy to feel powerless, hopeless, and defeated, when thinking of the horrors that Syria's children have to go through, day by day.
Still, great things can start with small gestures.
Save the Children helps us to get organised. With my company Transmissible, I want to motivate people in the network to support this fundraiser, to join the activities this month, and donate to help Syria's Children.
There is lots of space to join our team: the more members, the more funds we can raise.
Donate on our Fundraiser Page on Save the Children.
Thank you for supporting Save the Children Federation, Inc.
Your contribution is greatly appreciated!
Thanks ++,  Arnold