Hello, fellow gamers and enthusiasts!
We are beyond thrilled to announce the arrival of the newest gem in our webshop: the second edition of the riveting card battle game - "Healing Blade: Defenders of Soma", designed by the brilliant minds at NerdCore Medical.
Set in the mystic world of Soma, the game presents a riveting tale of conflict and resilience. The land is under a catastrophic siege by the vile Lords of Pestilence, dreadful beings embodying the likes of Anthrax, Pertussis, Cholera, and the Black Death. These malevolent invaders are attempting to annihilate the innocent inhabitants of Soma.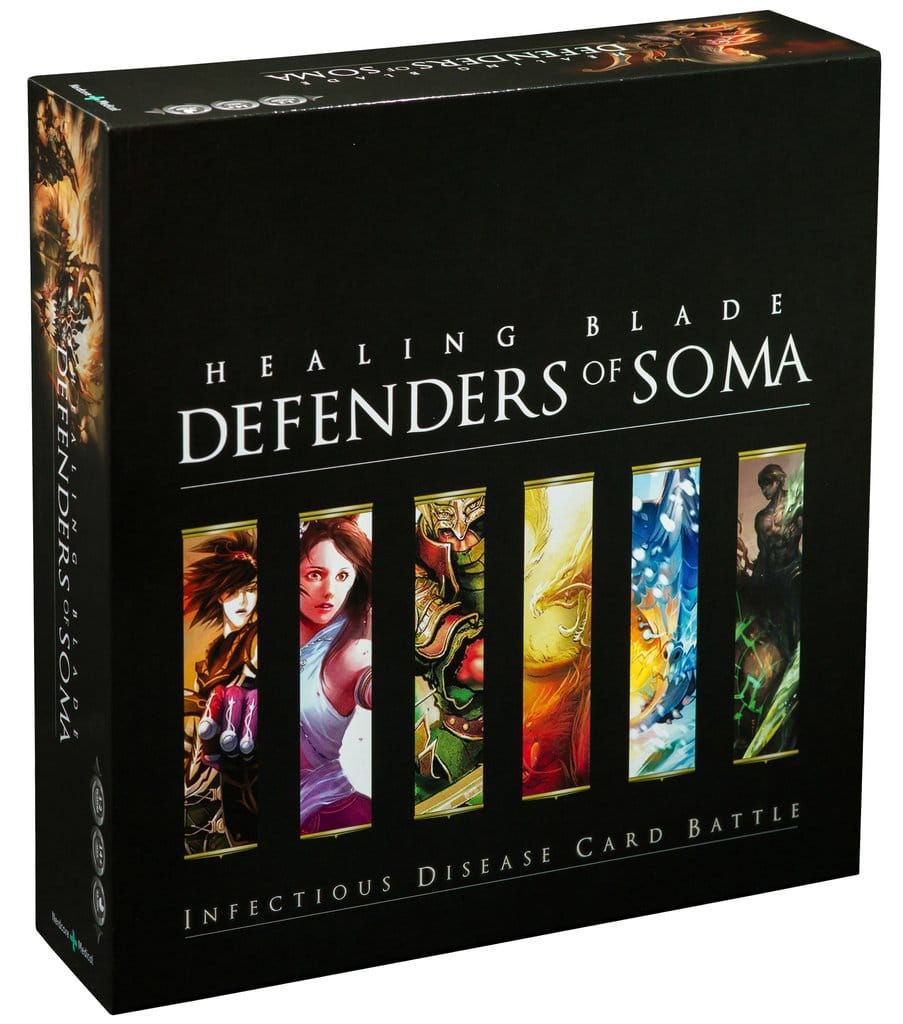 But despair not! The people of Soma are not unguarded. The Apothecary Healers, their messianic saviours, rise to defend their homeland. Commanded by the venerable warriors Penicillin, Cipro, and Tetracycline, the Healers tirelessly engage in combat, repelling wave after wave of relentless attackers. Each Apothecary Healer carries a unique speciality that requires thoughtful and strategic deployment.
However, the task is not easy; the invaders are cunning and evolve quickly to resist the Apothecary powers. Struck down, some of them return even more powerful.
About the game
Defenders of Soma is a unique blend of fantasy and reality, designed to emulate the real-world struggle against infectious diseases and bacterial resistance. In this two-player card game, one player sends out the Lords of Pestilence to attack the innocent villagers, while the other defends with the Apothecary Healers. The game's dynamics mirror the escalating challenges of antibiotic use against the world's most common and dreaded bacterial infections today.
Created by a collaboration of hardcore gamers and practising physicians, this game doesn't merely provide a complex strategic gameplay experience. It subtly educates players about the urgency of today's medical predicaments, particularly the growing issue of antibiotic resistance.
Now, onto the exciting part! The second edition of Defenders of Soma is now available! This version features an updated set of antibiotics, aligning with the US-FDA standards 2021. It also includes an extended collection of villager cards for a more immersive experience.
Get your copy now
Healing Blade: Defenders of Soma, brought to you by NerdCore Medical, is now distributed in the Netherlands by Transmissible. Check out our webshop. To get a feel for the game, you can watch the 2017 Transmissible Briefs episode below, explaining the game in-depth
Let's brace ourselves to join the Apothecary Healers in their noble cause. So, gear up for a gaming experience like no other, and together, let's save the world of Soma from the dreaded Lords of Pestilence.
Visit our webshop now, and let the battle begin!