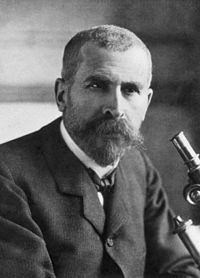 Pierre Paul Émile Roux (17 December 1853, Confolens, Charente – 3 November 1933, Paris) was a French physician, bacteriologist and immunologist. Roux was one of the closest collaborators of Louis Pasteur (1822–1895), a co-founder of the Pasteur Institute, and responsible for the Institute's production of the anti-diphtheria serum, the first effective therapy for this disease.[1]
When the Institut Pasteur was created in 1888, Roux was placed in charge of instruction in microbiology. At the same time, he became director of the Service de Microbie Technique and began his most important original work. There, confirmed the pathological role of the diphtheria bacillus, and perhaps most important, he demonstrated with A. E. J. Yersin that the pathogenic power of this bacillus depends not merely on its presence but, rather, on a poison, or toxin, that it produces.
"snake venoms themselves are not as deadly."
Roux said about this toxin.[2] Would his parents have been aware that the initials of their son (PPE) would become a key concept in communicable disease control?
References:
---
Want to see more "days to remember"? Take a look at our 2017 Year Planner.
[twitter_share text="A day to remember: Birthday of Emile Roux, 17 december 1853" url="https://www.transmissible.eu/archives/1895"/]